DELANO "The Hybrid", 4-String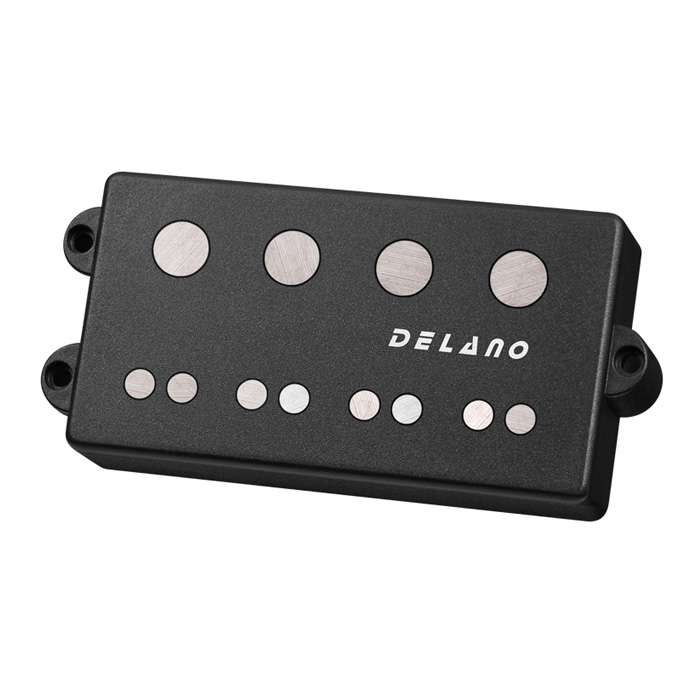 | Numéro d'article | | Prix | Bestellmenge |
| --- | --- | --- | --- |
| DE40B | MC4HY, 4-String Pickup | | |
| DE001 | 2-Band-EQ for Hybrid Pickup | | |
| DE002 | 3-Band-EQ for Hybrid Pickup | | |
Désignation

A pickup that combines in one single construction two legendary bass sounds.

Part 1: J-Bass-Style

Single coil pickup with the characteristic of an early 60`s pickup.

Part 2: Sting-Ray-Style

Low resistance coil with 9.5 millimeter Alnico 5 magnets. The second MM-style coil is integrated inside.

Switching concept

The integrated switch manager lets you get both of these classic sounds at the touch of a toggle. Passive function in J-Bass-style single-coil mode, active function with the DELANO 2- or 3-band EQ activated in Sting-Ray-Style humbucker mode.
Plus d'informations
Theoretisch läßt sich der Hybrid zwar auch komplett passiv betreiben, jedoch ist das nicht Sinn der Sache. DELANO empfiehlt daher unbedingt, den Hybrid nur in Verbindung mit der speziell dafür entwickelten 2- bzw. 3-Band Elektronik einzusetzen. Die Elektroniken beinhalten bereits ein Volume-Poti.
Für die, die noch einen zusätzlichen Halspickup wünschen, bietet DELANO optional einen eigens dafür kreierten J-Bass-Style Pickup an.