HYBRID 4-String Pickup Set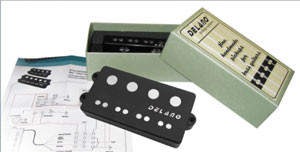 Désignation

Pickup set contains DELANO Hybrid Bridge Pickup, DELANO Custom J-Bass-Style Neck Pickup, and DELANO 2-Band-EQ.

The Hybrid bridge pickup combines in one single construction two legendary bass sounds.

Part 1: J-Bass-Style

Single coil pickup with the characteristic of an early 60`s pickup.

Part 2: Sting-Ray-Style

Low resistance coil with 9.5 millimeter Alnico 5 magnets. The second MM-style coil is integrated inside.

Switching concept

The integrated switch manager lets you get both of these classic sounds at the touch of a toggle. Passive function in J-Bass-style single-coil mode, active function with the DELANO 2- or 3-band EQ activated in Sting-Ray-Style humbucker mode.