Duesenberg Starplayer TV, Blue Sparkle Finish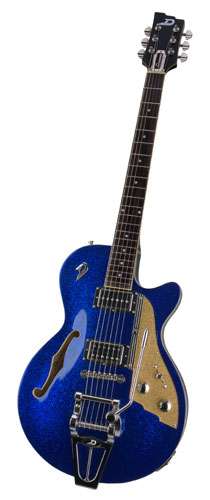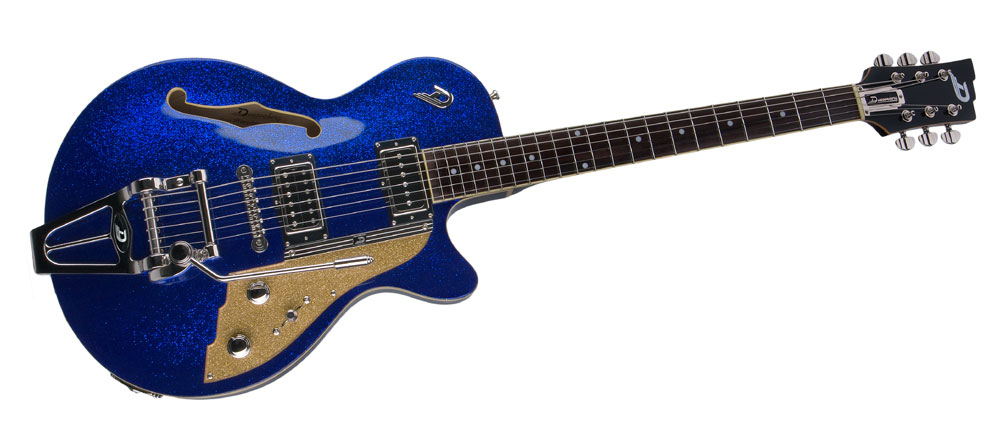 By viewing the video, you agree that your
data will be transmitted to YouTube and that you
have read the privacy policy
Thank you.
Description

The Starplayer TV is the flagship guitar made by Duesenberg. In contrast to other semi-acoustics a Starplayer TV delivers silky-smooth and lively highs, caused by the semi-hollow construction with centerblock. Due to the well-thought combination of pick-ups (the P90-style Domino at neck position and the Grand Vintage Humbucker at bridge position) and an ingenious wiring to combine them, this guitar delivers a wide range of sounds - suitable for Rhythm & Blues and hot Rock'n' Roll riffs as well as straight Rockabilly licks. It's the ultimate instrument for guitarists who want to create their own style with a unique guitar and who like traditional sounds. Custom Line Case included.
Further Information
Specifications
Arched top and back along with formed bowed sides and sustain center block
Maple neck with rosewood fingerboard
22 frets, traditional set in neck
25.5" scale
Binding on headstock, fingerboard, body top & back, F-hole and neck heel
Duesenberg Diamond Tremola tailpiece
Floating bridge
3-step kidney-shaped tuner buttons
P-90 construction, single coil pickup in neck position
Grand Vintage Humbucker in bridge position
Special Duesenberg twang sound in middle position of 3-way switch
Body size in cm: 46 x 34 x 7cm
Duesenberg Diamond Tremola:
The string ball ends are simply put through the 6 holes in the rectangular piece underneath the roller. (Instead of putting them onto pins). This saves time and nerves. The down-holder roller has six carved guides to automatically position the strings.