Vahlbruch BBQ (Booster, Buffer, EQ)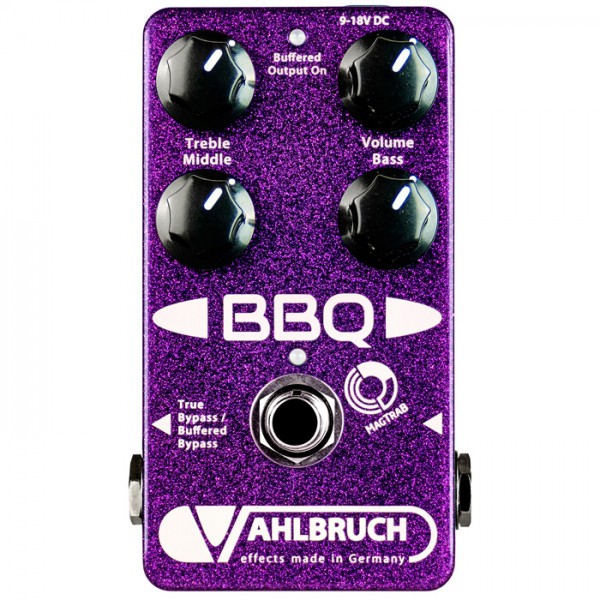 Désignation

The Vahlbruch BBQ combines a high-end buffer, booster and equalizer (BBQ) in one pedal. It is handmade in Germany and can be used in a variety of ways. The BBQ pedal can be placed in front of the amplifier or in effect loops. It is perfectly suited as a booster, it can help to clear up a crunchy amp and it prevents your tone over long cables and effect chains. The operation is easy and self-explanatory. A small plug' n' play secret weapon!
The BBQ pedal is also suitable for acoustic guitars!
Plus d'informations
An internal switch can be used to select between a true bypass mode or a permanently active high-end buffer circuit. An LED indicates the activated buffer mode as "Buffered Output On".
An active 3-band equalizer provides a wide range of +/-15dB for a precise and musical adjustment of bass, middle and treble. The individual frequency bands do not influence each other.
The volume can be adjusted from -8dB to +16dB in a wide and practical range.
Newly developed and very low-noise circuit design.
Exceptional reliability and ease of maintenance thanks to careful free wiring of jacks and foot switch.
Robust "on/off" circuit, an orange LED indicates the status.
Input impedance: 2.2M Ohms. Output impedance: 100 Ohms
Current consumption: 20mA
This pedal requires an external regulated 9-18V power supply (not included)Polarity: postive@ring / negative@tip
Dimensions: 112mm x 70mm x 48mm
Weight: 235g